PMP® Certification Online Training Course
(All course fees are in

USD

)
Course Description
PMP® certification is the gold standard for Project Management professionals. The PMP course covers the latest best practices highlighted in the PMBOK Guide – 6th Edition and aligns with the latest PMP Examination Content Outline 2021.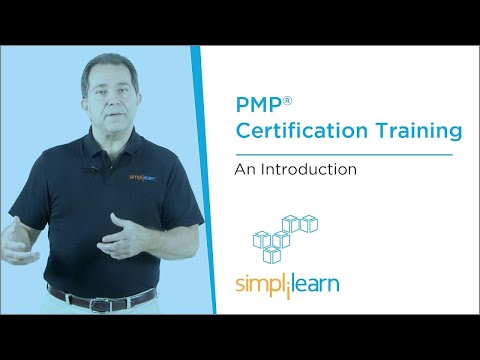 Offered in partnership with
Simplilearn (Premier Authorized Training Partner of PMP® certification)
Course Delivery
90 days of flexible access to online classes
Total 35 hours of online self-paced learning & online live virtual classes
Benefits
35 contact hours/PDUs
Access to Digital materials from PMI
Experiential learning through case studies
Work breakdown structure
Resource allocation
Gantt charts
Mathematical project scheduling models
Project cost estimating
Cost management
Engineering economics
Leadership
Award upon Successful Completion
PMP® Certificate Training "Certificate of Achievement"
Awarding Organisation
Simplilearn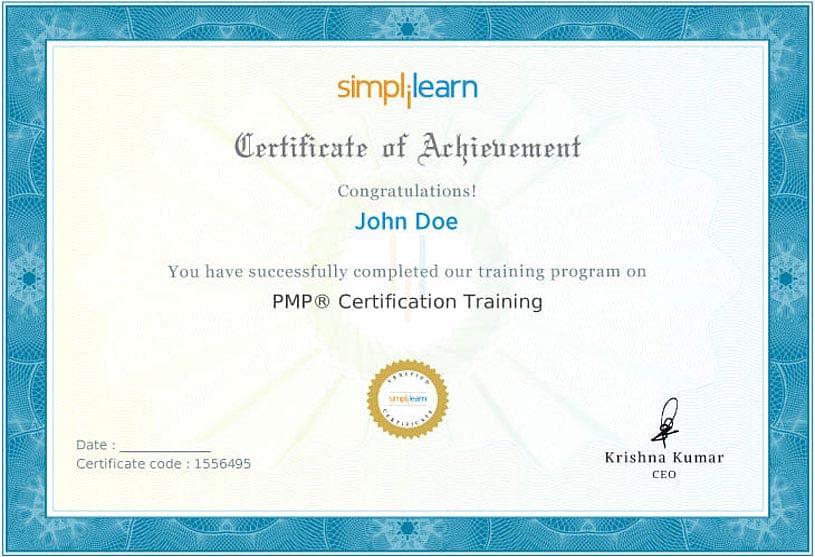 Learning Outcomes
Modern project management tools such as work breakdown structure, resource allocation, Gantt charts, mathematical project scheduling models, project cost estimating, cost management, and engineering economics
Developing a broad and flexible toolkit of techniques and adapting your approach to the context and constraints of projects
Delivering projects on time and on budget with given resources
Cultivating the people skills, trust, and leadership necessary to meet project requirements
Assessment
Course-end assessment
Course Completion Criteria
Complete the self-paced learning
Attend the online live virtual classes
Minimum 80% score on the course-end assessment
Who Should Enrol
Project managers
Associate/assistant project managers
Team leads/team managers
Project executives/project engineer
Software developers
IT managers
Any professional aspiring to be a project manager
Prerequisites
No prerequisite for this course, but qualification requirements of PMP® certification include:
Secondary degree (i.e. high school diploma, associate's degree or the global equivalent) with 7,500 hours leading and directing projects along with 35 hours of project management education.
OR
Four-year degree with 4,500 hours leading and directing projects along with 35 hours of project management education.
Course Overview
Section 01: Introduction
Section 02: Create a High Performance Team
Section 03: Start the Work
Section 04: Do the Work
Section 05: Keep the Team on Track
Section 06: Keep the Business Environment in Mind
Accessible Period of Course
1 year from date of enrolment
Course Advisor
Tim Jerome
Project Management Expert and Evangelist
Tim Jerome is an international project management expert with over 15 years of experience at companies like Intel and Digital Network Services. A former president of the PMI Rio Grande Chapter, Tim is also a PMP instructor with over 10 years of experience in addition to his extensive project management consulting experience.
Customer Reviews
Aashish
Process Lead
The PMP session and the trainer Tim were awesome and very informative. Thank you for the support.
Kyle Murphy
Senior Customer Success Manager
It was an incredible learning experience. My instructor, Tim, had an excellent knowledge of the PMP certification. I appreciate the "learn-by-doing" approach, as well as the availability of reference materials.
Suvobroto Ghatak
The course content is comprehensive and up to date. And the course instructor Tim is great. He has excellent knowledge and is extraordinarily detail-oriented.
Ebenezer T Quaye
Project Manager at Infosys
I joined…..for my PMP Certification and passed very easily. Their staff is very professional and helpful…….
Giuseppe Giuffrida
Product Engineer Manager
The best part about the course is its flexibility and allowing participants to learn at their own pace. A great learning experience, overall!
Gerhard Van Der Westhuizen
Development Manager at Atterbury Property Developments
……. one of the best online training providers available. The training was very informative and the quality of the presentation was of a high standard and very helpful.
Francine Gaillour
Business Strategist at Healthcare Transformation Partners
…..PMP training brought numerous concepts together in a "simple" and cohesive package. I highly recommend….. even if you don't plan to sit for the PMP exam.
Claudette James
Strategic Planning & Project Management Professional
The trainer was EXCELLENT. He gave real life examples which we could apply the concepts to, rather than go through the slide word for word. We could always read the slides on our own. The examples were much appreciated. very informative.
Janet Grover
Sales & Project Management
This course was great! I feel much more confident about the material now. The trainer was wonderful! I liked that we were able to fire questions at him and he would respond with examples of his experience. Also no question was a "dumb" question. Give him a Raise! 🙂
Alejandra Alvarez
Director of Corporate Operations | Hospitals International
I took the PMP course twice because the trainer is that good! I wanted to take the class again as a way to review all of the concepts. His approach to the course and his examples are perfect to understanding the concepts of the course.
Ankur Rawat
AGC Networks LTD
This was an excellent training program. A big shout out for the trainer, for training us so well. I are more confident, and clear on the PMP course. Looking forward to get certified soon. A big thanks…..
James Stewart
Solutions Delivery Manager at Telligen
…… great learning experience for me. It has been a pleasure. I highly recommend ……..
Sherry Sokach
Project Lead/Technical Writer at Five Stones Research Corporation
The training was good. The trainer was extremely thorough and used everyday situations as examples, which truly helped to understand the processes better. The course was very helpful. Thank you for all the support.
Katherine Ulloa
Project Manager
My experience……was excellent. The instructor and the customer support were helpful. The recordings of the sessions and the simulation tests benefited me a lot. I highly recommend….. to those who want to get ahead in their careers.
Course Features
Students

1 student

Max Students

100000

Duration

35 hour

Skill level

intermediate

Language

English

Re-take course

10000