Professional Certificate Program in Blockchain – IIT Kanpur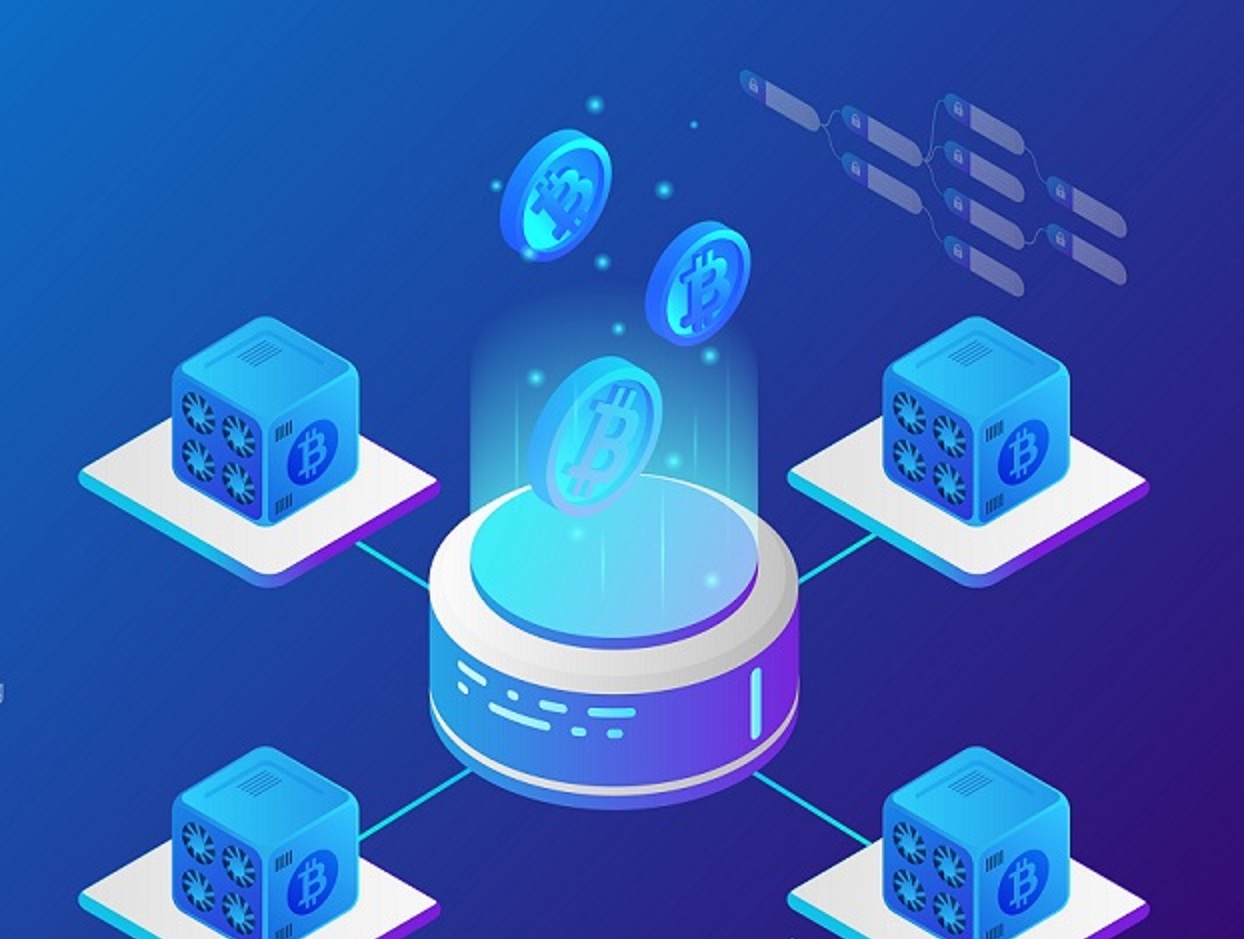 (All course fees are in

USD

)
Course Description
The Blockchain Certificate Program of IIT Kanpur helps learners start from fundamentals and then cover technical and functional aspects needed to build any blockchain solution using the best tools and techniques in the industry. In this program, they will build smart contracts, bitcoin wallets, create transactions, fabricode and more.
Developed / Co-Developed by
Simplilearn/ IIT Kanpur

Offered in Partnership with
Simplilearn / IIT Kanpur
Course Duration
Total 4 months
Benefits
Program completion certificate from IIT Kanpur and Simplilearn
Get hands-on experience with a capstone on industry-relevant practicalcases
Access to online integrated labs
Masterclasses from IIT Kanpur faculty
Build skills to become job-ready and advance your career
Skills to be Learned
Cryptography and Cryptocurrency
Bitcoin
Distributed ledger
Hyperledger
Ethereum Blockchain
Consensus
Transactions
Work flows
Networks
Tools Covered
Ethereum
Hyperledger
Truffle
Solidity
Hyperledger Fabric
MultiChain
Bitcoin
Java
Award upon Successful Completion
"Professional Certificate Program in Blockchain" from Simplilearn/ IIT Kanpur

Awarding Organisation
Simplilearn/IIT Kanpur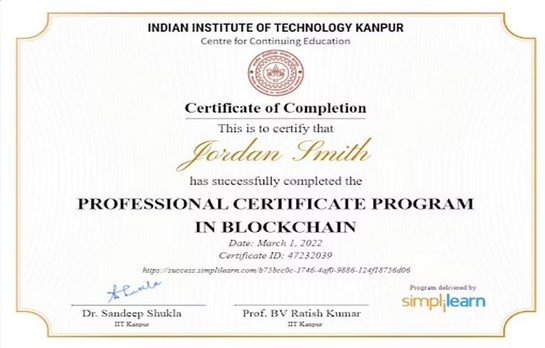 Learning Outcomes
After completing this course, you will be able to:
Understand blockchain technology

and key concepts such as




cryptography and cryptocurrency

concepts

Get a deeper understanding of

Bitcoin and its netwo

rk

Understand what distributed ledger

and hyperledger mea

ns

Architect and develop applications on

Ethereum Blockchain

Learn about consensus, transactions,

work flows, and networ

ks

Get hands-on experience with a

capstone on industry-relevant use cases

Understand and learn about smart

contrac

ts
Assessments
 Projects:
Project 1: Voting with Blockchain
You have been asked to create and deploy an application that can overcome the abuse of an electronic voting framework by leveraging blockchain innovation.
Project 2: Ensuring Transparency in Trade Finance Transactions
You are tasked with creating an application that replaces the paper-based framework, preserving a digital list of exchanges, and guaranteeing the validity of the contract.
Project 3: Application Creation to Track a Farm Supply Chain and its Origin
Many people across the globe are getting sick due to poor food hygiene. A better system is required to trace back the origin of the food item.
Project 4: Decentralized Patient Record Storage
You have been asked to create an application that ensures patient information is stored securely and responsibly as part of a migration to a new EHR system.
Course Completion Criteria
Satisfactory completion of projects
Who Should Enrol
Business analysts

Developers

Product managers

Project managers

Solution architects

Team leads

Students
Prerequisites
For admission to this Blockchain certification program candidate must have basic mathematical skills, preferably also:
2+ years of work experience 

University degree with at least 50% marks on average

Basic understanding of programming, including Java
Course Overview
Orientation Session for IIT Kanpur Professional Certificate Program in Blockchain
PG BC: Fundamentals of Blockchain
PG BC: Blockchain Applications and Architecture
PG BC: Blockchain Capstone Project
Electives
Academic Masterclass-Professional Certificate Program in Blockchain – IIT Kanpur
Application Procedures
1. Submit Application
Tell us a bit about yourself and why you want to do this program
2. Application Review
An admission panel will shortlist candidates based on their application
3. Admission
Selected candidates can begin the program
Course Features
Students

0 student

Max Students

10000

Duration

16 week

Skill level

all

Language

English

Re-take course

N/A
Orientation Session for IIT Kanpur Professional Certificate Program in Blockchain

Get started with This Professional Certificate Program in Blockchain by IIT Kanpur, this blockchain training will give you insights into real-world Blockchain applications.

PG BC: Fundamentals of Blockchain

Kickstart your blockchain journey with the fundamentals of blockchain technology. Get a deeper understanding of Bitcoin, familiarize yourself with the key concepts of cryptocurrencies, Ethereum, trust models, data integrity, NFT, Web3.js, and more. Offered in partnership with IIT Kanpur, this blockchain course will give you insight into the world of blockchain and its applications.

PG BC: Blockchain Applications and Architecture

Blockchain applications and architecture help you master the concepts of Blockchain consensus, transactions, and hashes. This blockchain training module helps you dive deep into the world of Hyperledger, learn smart contracts, hyperledger fabric SDK, understand the underlying networks, and master blockchain applications.

PG BC: Blockchain Capstone Project