Certified Information System Auditor (CISA®)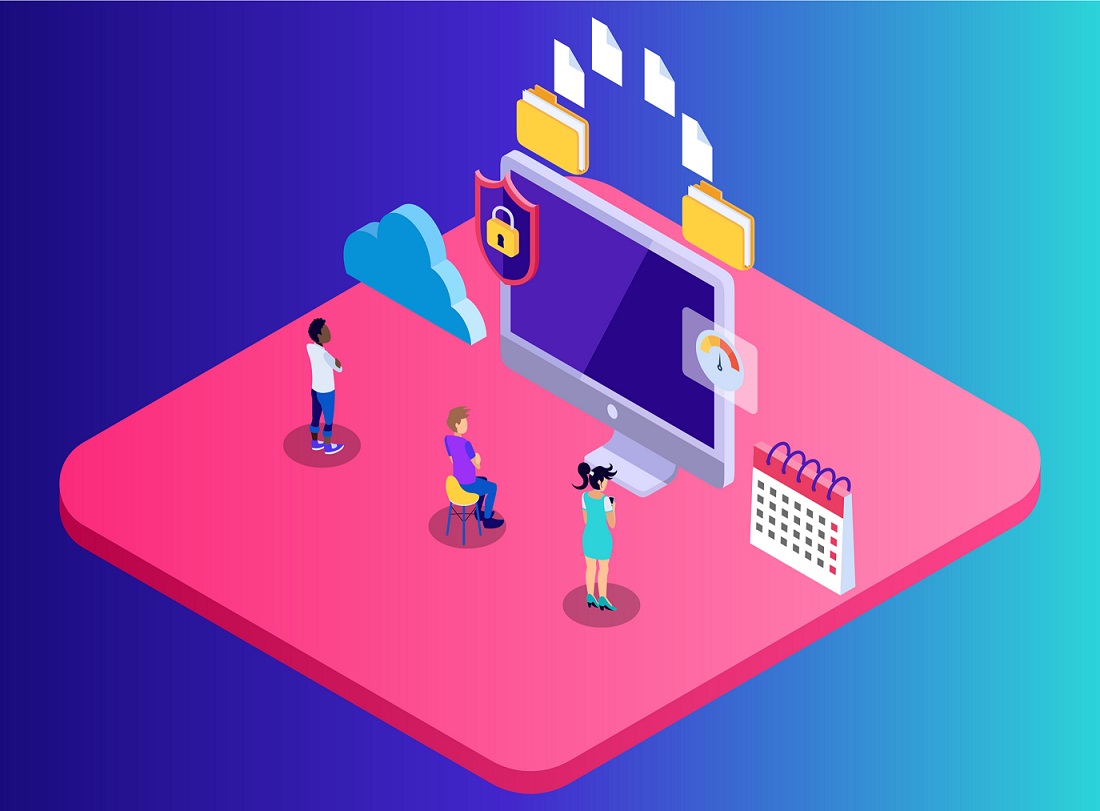 (All course fees are in

USD

)
Course Description
This Certified Information System Auditor (CISA®) online course helps you gain expertise in the acquisition, development, testing, and implementation of information systems and learn the guidelines, standards, and best practices of protecting them. The CISA® online training course enhances your understanding of the information system audit process and how to adequately protect it.
Offered in Partnership  with
Simplilearn
Course Delivery
Online self-paced learning: 14 hours
Live virtual classroom training: 40 hours
Total online blended learning: 50+ hours
Benefits
ISACA-accredited Instructors
This course is developed by an ISACA Elite Partner
Industry-based case studies
CISA® is one of the most sought-after certification programs for professionals with information systems audit, control, and security skills. A CISA® certification will enhance these critical skills and provide a competitive edge over your peers.
CISA Certificate | Certified Information Systems Auditor | ISACA
Skills to be Learned
Vulnerability assessment and identification
Information Systems audit and assurance guidelines
Auditing Information Systems
Governance and IT management
Information Systems acquisition development and implementation
Information Systems operations maintenance and service management
Information asset protection
Award upon Successful Completion
CISA® Certification "Certificate of Achievement" from Simplilearn
Awarding Organisation
Simplilearn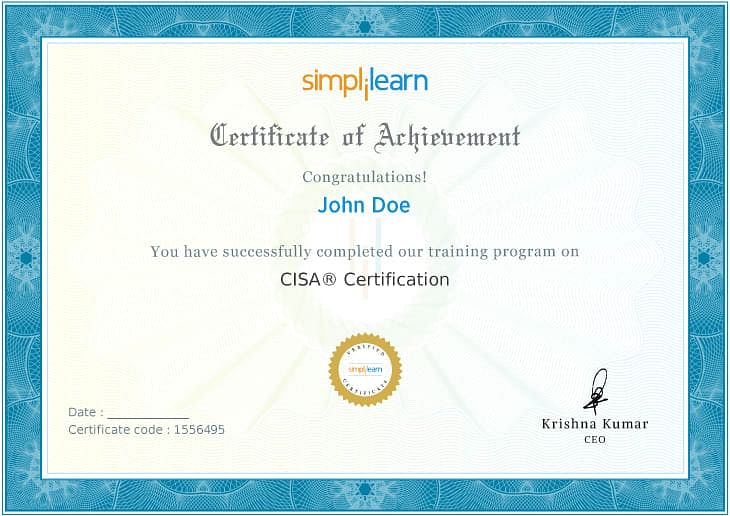 Learning Path
This online course is aligned with the CISA® professional exam. To become a CISA® certified professional, you need also to meet below requirements:
Pass the CISA examination
Submit an application for CISA certification
Adherence to the Code of Professional Ethics
Adherence to the Continuing Professional Education Program
Compliance with the Information Systems Auditing Standards
For additional information, please visit ISACA's website re CISA:
Get CISA Certified | Earn CISA Certification | ISACA
Learning Outcomes
Upon completion of this CISA® course, you will:
Be able to identify and assess vulnerabilities and report on compliance and institutional controls
Gain a better understanding of information system audit, assurance guidelines, standards, and best practices
Learn how to govern and control enterprise IT environments
Understand acquisition, development, testing, and implementation of information systems
Develop a working knowledge of domains of CISA®, as prescribed by ISACA
Acquire relevant knowledge and skills required to pass the CISA® certification exam of ISACA
Assessments
Course-end Quiz
Simulation Tests
Course Completion Criteria
Online Self-pace Learning
Complete the online course
Live Online Virtual Classroom
Attend one complete batch
Complete one simulation test with a minimum score of 80%
Who Should Enrol
Information system/IT auditors/consultants
IT compliance managers
Chief compliance officers
Chief risk and privacy officers
Security heads/directors
Security managers/architects
Course Overview
Domain 00 – Course Introduction
Domain 01 – Process of Auditing Information Systems
Domain 02 – Governance and Management of IT
Domain 03 – Information Systems Acquisition, Development, and Implementation
Domain 04 – Information Systems Operations, Maintenance and Service Management
Domain 05 – Protection of Information Assets
Access Period of Course
1 year from date of enrolment
Course Advisor
Dean Pompilio
Technical Trainer, Owner- Steppingstonesolutions Inc
Mr. Pompilio has been an IT Professional since 1989. He holds over 20 IT certifications which include EC-Council CEI, CEH, CHFI, CISSP, CISA, CISM. His passion is to help IT professionals achieve their training goals and career growth.
Customer Reviews
Kedar Raval
Senior Consultant Telecom, IT and Information Security
Very helpful for career in Information Security. The best part of the training is that the trainer is giving many practical and real-time examples to clarify concepts. Thank you.
Kalavathi R Srivatsa
Senior Manager Compliance at Hubzu
I attended this course with an expectation of understanding the basics and complete information about CISA exam and certification. The training was delivered with high level of professionalism, the trainer explained complex logic easily. Overall this training was great and met my expectations
Thomas Michael
Senior Information Security Analyst
…..This course was a proper combination of video recording and human interaction. The instructor has a sound knowledge of the subject and the examples provided were very apt. It helped me to take the exam confidently and pass with flying colors……
Simhachalam Mamidi
Manager – Quality, Risk Advisory & IT Audit at Wipro
Good content. Really appreciate the structured course methodology.
Santosh Veetil
Manager Regulatory and Compliance
Very good training on CISA. It was really helpful in understanding the basic concepts of infrastructure and IT operations.
Navin Malhotra
Audit Manager
Training course provided gives a very good understanding on five domains of CISA certification. It is going to prove a very handy and good reading material for self-study for exam preparation.
Bhupender Sharma
An excellent way of delivering the CISA content. I find it really helpful.
Diptiman Singh
Overall structure of training was good and it has achieved its intended objectives.
Samir Satam
The faculty displayed thorough knowledge on the subject.
Omkar Damle
Good Knowledge of trainer. Very cooperative on course speed and repeated explanations. Content arrangement is very good.
Rohit Rajvanshi
Classroom training helped me to understand the key concepts and interactions with a highly qualified trainer too was greatly helpful
Samuel Rajesh
I have enrolled in the CISA course and found it to be amazing. I think the course will help me find a new job in the future.
Rajeev Sharma
The training course covered all the required topics.
Deepak Rana
Thorough and detailed discussion during the batch helped to understand the concepts better.
Rakesh Rathod
CISA overall training was good.
Course Features
Students

0 student

Max Students

10000

Duration

54 hour

Skill level

all

Language

English

Re-take course

100000
Lesson 01 - Course Introduction

Lesson 02 - Process of Auditing Information Systems

Lesson 03 - Governance and Management of IT

Lesson 04 - Information Systems Acquisition, Development and Implementation

Lesson 05 - Information Systems Operations, Maintenance and Service Management

Lesson 06 - Protection of Information Assets