(All course fees are in

USD

)
Course Description   
The CCBA Certification training covers the basic skills needed by business analysts. CCBA is a formal recognition of a business analysis practitioner's expertise, based on the standards set by the International Institute of Business Analysis (IIBA®). This CCBA course is aligned with the BABOKⓇ Guide v3 and mentored by industry experts who have rich experience and extensive knowledge of it. Take this CCBA training and gain the capability to handle more complex projects of your organization.
Offered in Partner  with
Simplilearn
Course Delivery
16.5 hours of online self learning
Benefits
6 case studies
3 simulation tests
Courseware aligned to IIBA's 2016 CCBA release
22 PDUs offered
Lifetime access to self-paced learning
Industry-recognized course completion certificate
Skills to be Learned
Business analysis key concepts
Business Analysis Planning and Monitoring
Business Analysis Core Concept Model
50 business analysis tools
Elicitation and collaboration
Requirements Lifecycle Management
Solution evaluation
Award upon Successful Completion
Certificate from Simplilearn
Awarding Institution(s) / Organisation(s)
Simplilearn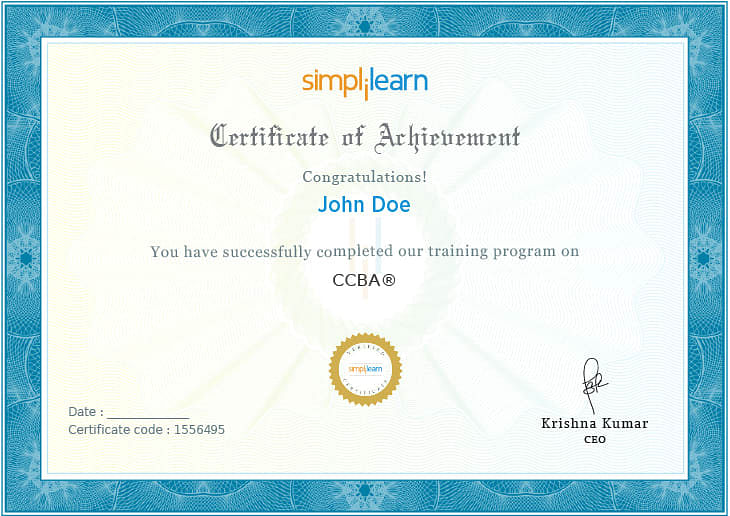 Learning Outcome
Understand the skills and techniques needed to become a business analyst
Execute and apply business analysis practices as outlined in the BABOK Guide
Access and prioritize requirements in life cycle management
Deliver higher quality results with increased consistency and efficiency
Who Should Enrol
The CCBA certification training is designed for individuals with some knowledge of business analysis and ideal for business professionals aspiring to become business analysts
Prerequisites
You need to have at least 3,750 hours of business analysis work experience aligned with the BABOK® Guide in the last seven years (of which a minimum of 900 hours is in two of the six knowledge areas OR 500 hours in four of the six knowledge areas)
You also need to have 21 hours of professional development in the past four years and two references from a career manager, client, or CBAP® recipient
Course Overview:
Lesson 01 – Introduction to IIBA and CCBA Certification
Lesson 02 – Introduction to BABOK v3
Lesson 03 – Business Analysis Planning and Monitoring
Lesson 04 – Elicitation and Collaboration
Lesson 05 – Requirements Life Cycle Management
Lesson 06 – Strategy Analysis
Lesson 07 – Requirements Analysis and Design Definition
Lesson 08 – Solution Evaluation
Accessible Period of Course
1 Year from date of enrolment
Customer Reviews
Betsy Parrott
Project Manager at Baxter BioPharma Solutions
I have enrolled in CCBA course certification from Simplilearn. The course curriculum is very specific to certification. The trainers are expert and have sound knowledge on the subject. The customer support is excellent.
Molly Woodruff
Crew212 at Keyot
This course was very detailed, it helps individuals taking the course understand what Business Analyst do, and how they can be the best Business Analyst.
Kelly Griffith
A very professionally delivered and superbly structured course. The segments were easy to follow and genuinely interesting. I highly recommend this course.
Arielle Le
The quality and structure of the content, as well as the e-learning delivery, were excellent!
Scarlet Bowen
It is by far the best course I have taken through Simplilearn. Double thumbs up!
Course Features
Students

0 student

Max Students

1000

Duration

16 hour

Skill level

all

Language

English

Re-take course

N/A
Lesson 01 - Introduction to IIBA and CCBA Certification

Lesson 02 - Introduction to BABOK v3

Lesson 03 - Business Analysis Planning and Monitoring

Lesson 04 - Elicitation and Collaboration

Lesson 05 - Requirements Life Cycle Management

Lesson 06 - Strategy Analysis

Lesson 07 - Requirements Analysis and Design Definition

Lesson 08 - Solution Evaluation