(All course fees are in

USD

)
Course Description:  
This CCBA Certification Training will help you to identify and implement the most applicable business solutions and produce reliable, quality results with increased efficiency and consistency. Our CCBA course validates your knowledge in the practices and principles of business analysis and will prepare you to pass the CCBA exam.
Offered in Partner  with:
Simplilearn
Course Delivery:
16.5 hours of online self learning
 Benefits: 
16.5 hours of high quality e-learning content
Six case studies
Three simulation tests
Courseware aligned to IIBA's 2016 CCBA release
22 PDUs offered
Skills to be Learned:
Award upon Successful Completion:
Certificate from Simplilearn
Awarding Institution(s) / Organisation(s):
Simplilearn
Certification Alignment: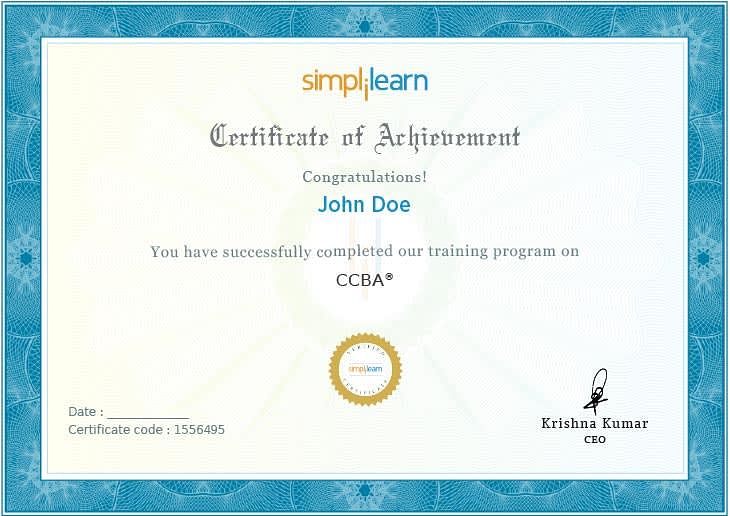 Learning Path:
Learning Outcome: 
By the end of this Certification of Capability in Business Analysis (CCBA) course, you will:
Understand the skills and techniques needed to become a business analyst
Execute and apply business analysis practices as outlined in the BABOK Guide
Access and prioritize requirements in life cycle management
Deliver higher quality results with increased consistency and efficiency.
Who Should Enrol:
The CCBA certification training is designed for individuals with some knowledge of business analysis and ideal for business professionals aspiring to become business analysts.
Prerequisites:
You need to have at least 3,750 hours of business analysis work experience aligned with the BABOK® Guide in the last seven years (of which a minimum of 900 hours is in two of the six knowledge areas OR 500 hours in four of the six knowledge areas).
You also need to have 21 hours of professional development in the past four years and two references from a career manager, client, or CBAP® recipient
Course Overview:
Lesson 01 – Introduction to IIBA and CCBA Certification
Lesson 02 – Introduction to BABOK v3
Lesson 03 – Business Analysis Planning and Monitoring
Lesson 04 – Elicitation and Collaboration
Lesson 05 – Requirements Life Cycle Management
Lesson 06 – Strategy Analysis
Lesson 07 – Requirements Analysis and Design Definition
Lesson 08 – Solution Evaluation
Accessible Period of Course:
1 Year from date of enrolment
Course Features
Students

1 student

Max Students

1000

Duration

16 hour

Skill level

all

Language

English

Re-take course

N/A
Lesson 01 - Introduction to IIBA and CCBA Certification

Lesson 02 - Introduction to BABOK v3

Lesson 03 - Business Analysis Planning and Monitoring

Lesson 04 - Elicitation and Collaboration

Lesson 05 - Requirements Life Cycle Management

Lesson 06 - Strategy Analysis

Lesson 07 - Requirements Analysis and Design Definition

Lesson 08 - Solution Evaluation